Welcome to the new year! Here's a quick update of what's happening in 2020 and a game to get you started with those new classes.
1.The new Jblog 4 Express launch
This textbook is designed specifically for the Stage 6 Beginners Japanese course mainly taught in NSW. It will share a similar feel to the other Jblog textbooks but will include new features like a city focus and destination text in each chapter.
2.Stage 6 Beginners Japanese Kanji Patch
A Kanji Patch specifically for the Stage 6 course is on its way. Students can move smoothly through the Hiragana, Katakana and now, Kanji Patches.
3.Digital versions of Jblog textbook 1 and 2
Digital versions of Jblog 1 and 2 are now available in the form of flipbooks. Whilst we still believe the research that shows hard copy textbooks are both preferred by students and have greater learning gains, we understand that it can be useful to have a hard copy at school and a digital copy at home for homework. That option is now available.
4.Noosa Workshop 2020
Our Noosa Workshop for teachers from all states and levels is running again Saturday, July 11th  2020. You can read more about it and book a spot using this link. We may take a break in 2021 due to family commitments so don't miss this year's workshop.
Keep an eye on our facebook page for the exact dates each of these and other new resources go live.
Don't forget that we launched several new resources at the end of last year including Base Camp, The Platform and The Year 7/8 Investment Expo Assessment task. These may also help kick start your new academic year in a fresh way.
Open-ended review game
When you start the year, often you are taking on a class of students that you didn't teach in the previous year. This game is a great way to ascertain what they remember after the long summer break. It doesn't need any IT or internet either!
This is a version of the hearts and crosses game.
Step 1: Board preparation
You need a piece of cardboard that you rule up into a table with 5 columns. These columns will house hiragana cards going left to right eg ka, ki, ku, ke ko. I make cards to fit these columns that are about 10cm by 10cm. Write a hiragana on each one and laminate if you like. I then use Velcro dots to stick the hiragana cards to the table. This means you can easily take the cards off to reveal what is behind each card during the game. It also makes packing up quick at the end.
On your cardboard table you can now write in pencil random points. I usually use a mixture of 5, 10, 20 and 50 points. I also hide one or two 100 points and 5 hearts and 5 crosses. I write these in pencil so that I can change the location in the future. Your students will quickly rote learn the location of the higher points otherwise!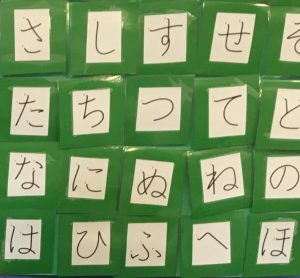 Step 2: Question generating
Put students into table teams and name them after a colour in Japanese eg aka, midori. It doesn't matter if you haven't studied colours yet. They only need to remember it as their team name.
Give them scrap paper and 5-10 minutes in teams to write down as many questions with a sample answer as they can about anything they remember studying about last year in Japanese. It can include vocabulary, grammar, or cultural knowledge. They must write their team colour on every strip of paper. This is very important. Gather all the team questions, mix together then place in a bag.
Step 3: Playing the game
On the board draw a basic table with each team colour listed in a column. Give each team 20 points to start. You then ask the first team to pick a hiragana letter from the board. You then randomly pick out a question from the bag. Read out the question. That team will attempt to answer and if they get it correct, remove the hiragana card from the board to reveal their points eg 5, 10, 100 points. Add those points to the score chart on the board. If they get a heart though, it doubles their current score. If they get a cross, it halves their current score. If they get the question wrong, nothing happens. Do not reveal what is behind the hiragana card if they get it wrong.
When reading out the question, check which team wrote it and give them 5 bonus marks. This means that the team who writes lots of questions has an advantage so make sure you explain this to the students before they start writing questions. This really motivates them. You can also reject a question if you don't like it. If the students who wrote the question have a good question, but a wrong sample answer you can still use it and give them points. This helps you understand their misconceptions. Just explain the correct answer to the class when you award the points.
The beauty of this game is you can make it as long or short as you need to and don't need to prepare any questions in advance. The board can be re-used and you can change the hiragana cards for katakana cards for older students. If your students don't know hiragana, I used it in primary by giving them access to a hiragana chart and they were fine.
As always, if you have any questions, please feel free to email me directly at jblog1help@gmail.com .
All the best for a fabulous 2020!