Key Features of Jblog 3 Textbook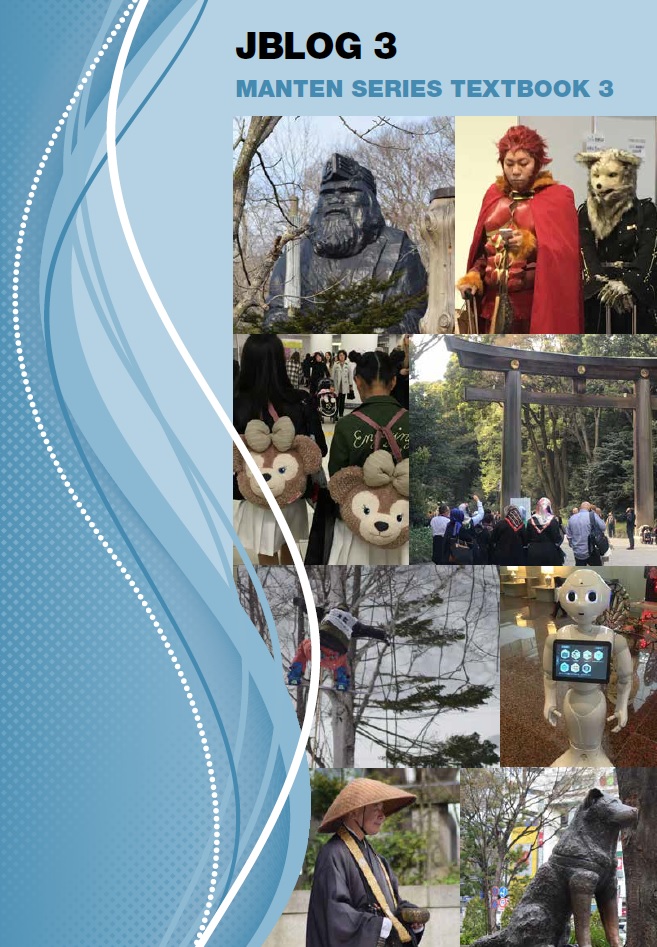 1. The chapter title page includes a chapter summary and an eye-catching photograph; students are more adept at learning from images than they are given credit for.
2. Jblog is a weblog that introduces the cultural background of the chapter. It has a side panel with focus Japanese words. Facts are detailed enough to keep even the most gifted students engaged.
3. The ski challenge section encourages students to try challenges according to their ability, with three levels of difficulty based on the ski run rating system of green for beginner, blue for intermediate, and black for advanced. Each chapter features one differentiated challenge. Worksheets and listening drills also follow this rating system.
4. The Ask Your Senpai column is based on an Agony Aunt column. A problem is posed to explain new concepts of the language, culture, or the language learning experience. For example, the problems you may encounter when using a dictionary.
5. Each chapter ends with Lucy's Diary. Lucy is the more advanced younger sister in the textbook who models the language in more contextualised texts.
6. 10-Second Genius is a short grab that allows students to improve their "genius" ability in 10 seconds, for example, by using suffixes to create new words.
7. NEW: A New Perspective. This section builds on previous learning and reveals a new way of looking at content students have already seen. For example, moving from kunyomi knowledge of kanji to onyomi readings.
Topics covered in Jblog Textbook 3
Chapter 1: Animal Influence
This chapter looks at the topic of pets in a more sophisticated way. It begins with Hachiko, the most famous Japanese pet, and moves onto the influence of animals on our lives. Students learn about native Japanese animals such as tanuki and inoshishi. We look at pet ownership rates in Japan and Australia, consider religious and cultural influences on attitudes towards certain animals, and finish with a look at Ainu culture. This unit would be suitable as an inquiry-based unit.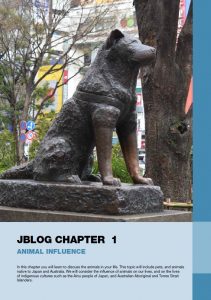 Content includes:
vocabulary for pets
animal counters わ、ひき
making comparisons より
describing pets and animals of Japan and Australia
links to Australian Aboriginal and Torres Strait Islander perspectives including ancestral beings, maternal bloodlines and personally significant entities
Chapter 2: School Trip
In this chapter we join Lucy on a school trip to the Kansai region, and learn from her mistakes regarding Kansai dialect. We focus on famous attractions such as Kiyomizudera and Nijoujou, as well as exploring the various types of accommodation available in Japan. This unit is good preparation for a school tour to Japan.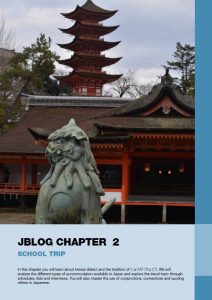 Content includes:
packing lists
adjectives review
trip itinerary
conjunctions & connectives eg が、けど、しかし
direct and indirect speech quotations
interviewing tourists
travel diary
Kansai dialect
Chapter 3: Graduation
The third chapter revisits the school topic from the perspective of graduation. It is a good opportunity to revise school-related vocabulary and put it to use in more sophisticated ways as students introduce their school life to others. This is an excellent unit to do as preparation for Japanese sister school visits.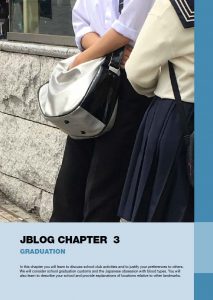 Content includes:
Discussing school club activities
Basic relative clauses using 好きな
Justifying preferences
Discussing relative location – ペンはつくえの上にあります。
Describing school life
Superstitions regarding blood types
Graduation ceremonies
Chapter 4: Golden Week
This chapter introduces the concept of Golden Week and the public holidays it encompasses. Students develop their understanding of Japan as a multi-dimensional society as Jake's family visit Okinawa. The various cultures that have influenced Okinawa are introduced, such as China and America. This unit develops visible thinking skills as students progress from the shallow perspective of Okinawa as a holiday destination to a deeper understanding of the history that has shaped Okinawan society.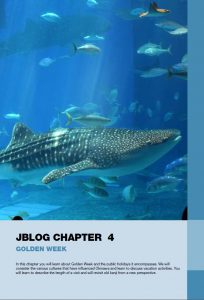 Content includes:
Golden Week and other national holidays
Okinawa – past and present
Discussing sightseeing and local attractions
Describing the purpose of a visit     おしろを見にきました。
Describing the length of a visit – days, weeks, months, years
Okinawa dialect
Writing a quiz
Posting on line re a holiday
Chapter 5: Retail Therapy
This chapter taps into some retail therapy! Lucy has a birthday party, and her friends encounter problems when buying Lucy's birthday present. This text encourages student creativity, as the task requires the student to write the ending of the scene. Students explore where to shop in Tokyo as well as shopping etiquette in Japan, such as taking off shoes in change rooms. Japanese as a language system is also explored in the Ask Your Senpai column where current knowledge is tested in new contexts.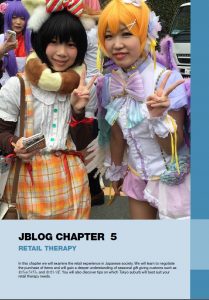 Content includes:
Katakana abbreviations eg コスプレ
Shopping customs in Japan including おちゅうげん、おせいぼ
ほしい  versus   たい  usage
On-line purchases
これversusこの
Locating items in a store
Uses of the particle の
Noticing familiar words in new contexts eg か to mean "or"
Chapter 6: House Swap
In chapter 6, the Yamada family does a house swap with the Clarke family from Noosa. In this chapter, the volume of Japanese text is increased in preparation for Stage 6. For example, the Ask Your Senpai column is now written in Japanese rather than English. This unit coincides with Term 3 and looks at World War II events that took place on Australian soil, such as the bombing of Darwin, the Cowra Outbreak, and the midget submarines in Sydney Harbour.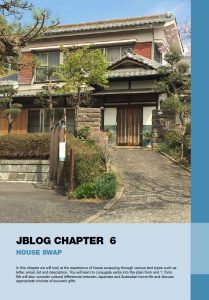 Content includes:
Cowra Outbreak, Darwin bombing & the Sydney Harbour submarines
Writing a profile
Introduction letters
Forming the plain form
Conjugating the て form
Using the て form as link and to make requests
Cultural differences between home life in Japan and Australia
Suggestions for おみやげ
Chapter 7: Environment
The seventh chapter explores environmental issues and the positive and negative effects humans have on their surroundings. The effect of Fukushima on local communities is investigated, and students consider how etiquette helps us share our environment with others. There is a focus on learning how to persuade others through language choice.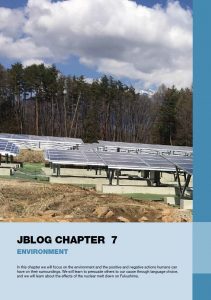 Content includes:
environmental issues – solar panel farms, nuclear energy
Persuasive language structures – ましょう、ませんか、ましょうか
Organizing positive action – posters re recycling, clean-up events
Using the て   form to grant and deny permission – てもいい・てはだめ
Signage re local rules eg swim between the flags, send bags via a courier
peer pressure re smoking
Chapter 8: Future Directions
In this chapter we look at future directions for students and for Japan as a nation. The concept of "work" versus having a "calling" is discussed, and we relate the long life expectancy of the Okinawans with research on いきがい. Changes in Japanese society are investigated, including the focus on foreign tourism, the push for women to return to the workforce post-children, and the use of robots and drones to support childcare workers.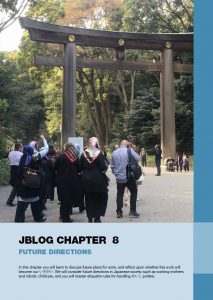 Content includes:
Foreign tourism in Japan especially the Chinese tourism boom
Women in the workforce and changes to support them
Discussing employment and occupations
Meishi etiquette
Living with robots – a solution for the elderly and the infant
Discussing future plans and events
Life beyond school – university, travel
An interview with Okinawan elderly – my ikigai
Moral issue – who should pay on a date
Text type review